2021-2022 Student Group Information Forthcoming
Student Organizations
oSTEM For LGBTQ+ students in STEM degree programs.
Pride Alliance a club supporting and advocating for LGBTQ+ people of the general UMD student population.
QLA  Queer Leadership Accelerator is a club within the Robert H. Smith School of Business established for the purpose of of cultivating and equipping queer leaders for professional excellence. 
Smith Pride Alliance an affinity group for LGBTQ+ MBA students in the Smith School of Business.
Greek Alliance a student-run organization that encourages a culture of inclusion for LGBTQIA+ individuals within Greek Life. Greek Alliance also offers workshops to encourage chapters how to make their spaces more inclusive for queer individuals.
LGBTQ+ Students and Allies in Public Health seeks to promote LGBTQ+ health equity, social justice, and anti-racism by engaging in research, advocacy, education and leadership projects and initiatives at the UMD and beyond. Open to LGBTQ+ undergraduate and graduate students and allies.
Graduate Students
Although all discussion groups are open to all students, we recognize that grad students sometimes feel out of place when groups are majority undergrad. If you are looking for community, check out the LGBTQIA+ grad students facebook group.
Weekly Discussion Groups, Spring 2021
Most discussion groups are a part of the larger LGBTQ+ student organization, Pride Alliance. Nice Jewish Queers is a part of Hamsa. All groups are open to newcomers and respectful allies.
Women2Women:
True Colors of Maryland (TCOM): 
TransU: 
HAMSA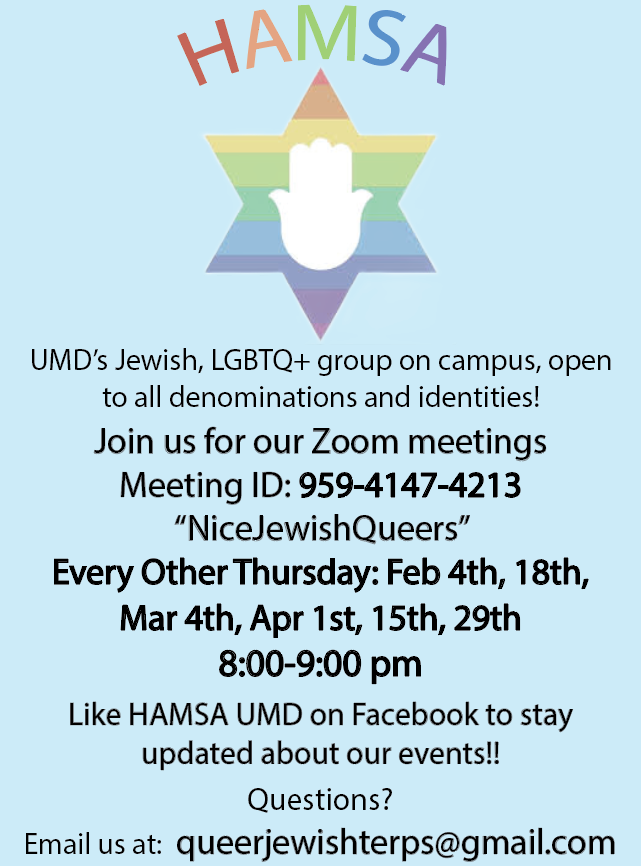 Meetings every other Thursday this Spring Semester: February 4th, February 18th, March 4th, April 1st, April 15th, April 29th. 
Zoom Meeting ID: 959-4147-4213 
8:00pm-9:00pm